Students
February 12, 2021
"Although my 4 years of his day to day classes were memorable and house some of my favorite high school experiences, both of the most impactful memories I have of Mr. Che occurred not just outside of class, but on a different continent entirely. We had just arrived at the Great Wall as apart of our school trip to China when the first of those moments occurred. I don't recall specifically telling him, but he knew that day was also my birthday. Because he remembered, he found time to secure a little keychain with the Great Wall on the front and the date etched on the back for the sole purpose of acting as a birthday gift. This doesn't sound like much, but this rare instance where a person gives something you truly don't expect while showing they cared about you more than you knew has done nothing but stick with me all these years. His random act of kindness moved me in a way that's hard to describe but impossible to forget. Those small moments are when you see what someone is made of and what they're made of is good. I don't know if he thought much of it or even has a clue how much of an impression it left on me, but to this day I keep that keychain with me, and don't plan on changing that any time soon.
The second came a few days later when we went far outside of the city. To put it simply, because someone of my skin color isn't a common sight there, while traveling as the tourist, I was the tourist attraction. While our class traveled on a boat, people sitting near us started asking to take pictures with me and, in short order, I wanted to be left alone. My request for some peace ignored, the next time I turned around my stress spiked when I saw people in line to talk to me with many more preparing to join the queue. This all escalated within a matter of minutes until Mr. Che saw what was going on, looked at me, and said "come sit next to me, I'll handle it." What proceeded was for the rest of the time him acting as effectively a personal bodyguard, telling people who came up "if you want to talk to him, you have to go through me". It only took him telling that to a few people before everyone understood that he meant it. I would have felt bad if there was literally anything I could've done to prevent this, but it meant a lot that he took this initiative as although taking a few pictures wasn't that big a deal, he wasn't going to let any inconvenience slide if it bothered one of his students even the tiniest bit. I was so happy to get off that boat, but even happier to know that he really had my back."
– Albert III '16 
"In 2008, going into senior year of high school, I was already looking forward to the next chapter of life awaiting me after graduation, so I didn't have a set plan as to all the classes I wanted to take during my senior year. History and Social Studies weren't my favorite subjects, so I decided to switch it up from the types of classes I had previously taken and took a gamble – I registered for Mr. Che's Asian Studies Honors class. I wasn't really sure what to expect, but I had an interest in learning about the history and cultures of East Asia because it wasn't something I had ever had exposure to in school. At the start of the Fall 2008 semester, it quickly became evident how fortunate I was to have signed up for that class. Not because of the class itself, but because Mr. Che was my teacher. He had an absolute love for his students, the world, and humanity in general. He showed that love each day when we walked into the classroom. To this day, I can still remember his face as he would call us his "dear students". I still remember his kind, genuine smile. He shared with us personal stories about his homeland and about his life – stories of hardship, stories of perseverance, and stories of hope. Whenever we talked about the current events that our world was facing, you could sense the hope that Mr. Che lived his life by. He would share with us how his hope was placed in us – his students – to help create a better future.
In my post-college endeavors, I had the somewhat happenstance but incredible opportunity to teach mathematics for one year at a high school in Gainesville, FL. I am thankful that I had this opportunity. Looking back and reflecting on the kind of man Mr. Che was, I am even more appreciative to have had Mr. Che as a teacher than I was back in 2008 when I was a 17/18-year old kid. For me, teaching had its trying days, and I don't feel that I was the best teacher for my own students every single day. However, that wasn't the case for Mr. Che. Every day that we walked into Mr. Che's Asian Studies Honors class, Mr. Che gave us the best of himself and he motivated each of us to strive to be the best that we could be. I will always strive to remember and carry the love that Mr. Che had for not only his students, but for each person he encountered. I firmly believe that Mr. Che's love transcended the normal bounds of love to extend to all of humanity. I honestly believe that Mr. Che loved every person in the world, including every person he never met.
Mr. Che – you will always be remembered. Until we meet again, my dear teacher. "
– Joshua Matam '09
"车老师突然走了,不知道说些什么好。回想起过去的点点滴滴,仿佛能看到车老师坐在那里的样子,能听到他温和的语气,能感受到他身为长者深切的关怀。真的为车老师的善良所感动。虽然四年里并没有教授我课程,但一直对我帮助良多。记得刚到Ransom的时候,他会问我适不适应课程,并时常给我一些建议,帮助我融入校园。直至毕业前的升学指导,各个方面关怀备至。最后离开迈阿密的时候,也是他早上四点就起来送我们去机场。未曾想,此去一别,便是永远。不敢相信那些温馨再也不会有了。未能为他送行,是我的遗憾。车老师,请一路走好。 "
– 郑仪端 (Donna Zheng)'19
"YouMing Che was easily one of the most unique and remarkable professors at Ransom — those who studied Chinese at Ransom all shared a bond that revolved around him and his tutelage. Mr. Che was a kind, comical, at times mysterious, and bold man. On a mission to equip students with cultural and language tools to engage with a rapidly-developing China, Mr. Che was a patriot in every sense of the word. He has left an indelible mark on Ransom and will be remembered for generations. I wish tremendous love to his family, and may they know how loved he was by his RE family. "
– Lucas Almada-Sabaté '16
 "Few people have had as profound of an impact on my time at Ransom Everglades as Mr. Che. For one, he nurtured a love and fascination with Chinese language and culture which still burns strong to this day. As friend and confidant, Mr. Che would never hesitate to "tell it like it is," a quality which I feel represents his genuine care for his students.  On one occasion he pointed out to me how my own hubris had stood in the way of my success. 《骄兵必败》he told me, "The Arrogant Solider will Surely be Defeated." He later provided the proverb to me written in his own calligraphy, which still hangs proudly in my room to this day. Mr. Che was truly one of a kind and I am eternally grateful to have been his student. 亲爱的车老师,我永远不会忘记您。"
– Steven Lang '16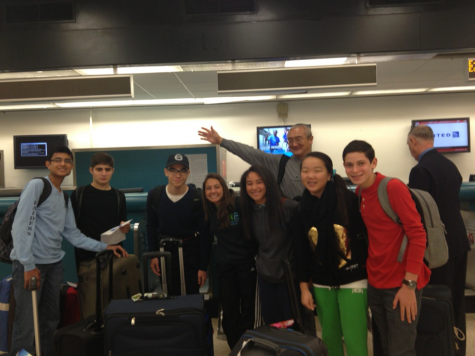 "Mr. Che was, in simple terms, extraordinary. There aren't any words that can truly describe such an amazing person. Never have I met a man so passionate, not only in teaching, but for his students as well. He was so driven to make a change in every single one of us. I remember the days where I would feel like giving up in his class, but his patience and determination spoke volumes. He inspired me to never give up on anything. I will cherish every moment with him, especially the memories we made on the China trip. Mr. Che was a great teacher and a phenomenal father. His wisdom will live on with us forever. May you Rest In Peace Mr. Che ❤️ "
– Javier Gonzales '16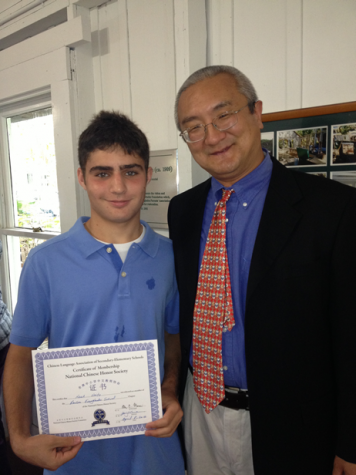 "Mr. Che was an outstanding man in many ways. He was passionate for what he believed in and for his students. He was a caring man, going above and beyond for me and my classmates during our trip to China to ensure we all stayed safe and had fun while learning about the country. His responsibility during that trip as well as his kindness and desire to help students in the classroom are what I will remember him for most. Thank you, Mr. Che"
– Noah Weitz '16
"Mr. Che was one of my favorite teachers, and his guidance left an indelible mark on my education.  Mr. Che entered my life during my formative years and offered an incredibly eye-opening perspective. To date, I count the class trip we took to China with him as the greatest trip I've ever taken and it greatly influenced my conception of the world and our place in it.  His guidance went past Chinese studies too. My friends and I used to spend lunch periods with him just chatting about anything and everything and Mr. Che always had friendly insight to offer.  He was one of the nicest and most earnest teachers I ever knew, and he will be greatly missed."
– Lance HK '16 
"I can't recall a teacher who I never had, who meant as much to me as Mr. Che. Even though I didn't take Chinese, he welcomed me into his class during off periods and treated me with as much respect as he would treat his own students. He was intelligent and kind, but had a witty sense of humor and an infectious smile that could change your whole day. "
– Jackson Mihm '16
"I will cherish Mr. Che's wisdom forever. Right before winter break, I decided to gift Mr. Che "Leonardo DaVinci" by Walter Isaacson, a book I had read two years ago and loved. I explained to him that I chose to give him the book because he taught me about the importance of imagination. He was so excited to read the book and read it all over the break. When he came back, we discussed the book and he told me "You see, it's all in the details. Curiosity and details are most important." Like Leonardo DaVinci, Mr. Che believed in passion, imagination, curiosity, creativity, and observation as the most important tools one must use in their life. He made Chinese class about more than just learning the language. Mr. Che braided history, philosophy, and culture into a language class, and I will be forever grateful for all that I learned from him. "
– Isabel Almada '21
"Mr. Che was a loving and compassionate man for whom teaching students, not only Chinese but also rich life lessons, was a calling and passion. In a culture of instant gratification, he taught patience. In a world dictated by scores and outcomes, he taught the value of hard work and progress. In a world increasingly wrought with closed-mindedness and xenophobia, he taught love and admiration for foreign cultures.He was adamant about the value of exploring new cultures, languages and places,pushing each of his students to reach out of their personal comfort zones to develop as students and as human beings. He believed that the world would be a better place if we could only come to understand and appreciate other cultures and customs, and he successfully managed to fill each of his classes with teachings about Chinese culture and the world that remain with me today. In this sense, his classes transcended characters and sentences and provided powerful life lessons for anyone who had the privilege of studying with him, lessons in cultural understanding, respect, and love.In our last correspondence (we remained in contact via email years after graduation), I wrote Mr. Che from Cambodia to discuss China's role in infrastructure projects across the developing world, as I was witnessing it first-hand there. For one, I feel immensely lucky to have had a teacher inspire me to a point that I wanted to discuss such things with him many years after graduation, and I recognize how beautiful it is that his lessons had been playing over in my mind long after I left his classroom. However, what headed at the end of the email will always stick with me: "This rich life experience is worth billions," he said. He believed wholeheartedly that going out into the world and immersing yourself in new places, languages, and traditions was the best way to open your heart to others, to be more loving toward your neighbor and to find a common ground which, at a large scale, would make the world a more peaceful and equitable place. Ransom Everglades and the world may have lost a wonderful man, however his teachings and love will continue to have an endless impact, long after he left his body. "
– Alex Swerdlow '15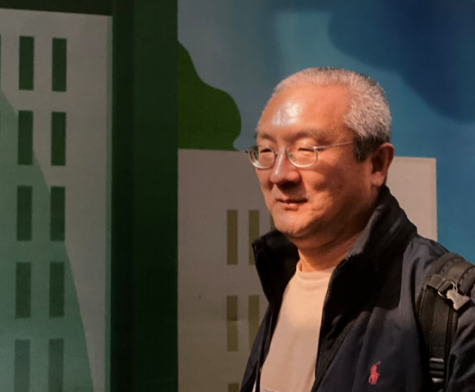 "Mr. Che is an enigma. I remember walking into his Chinese class for the first time and being incredibly nervous that this older, serious looking Chinese man would be a strict disciplinarian. Instead, what I found was a man with more compassion than a saint, a man who made his students laugh like banshees, a man who garnered ineffable respect simply by his presence, and above all a man who wanted nothing more than to see the world become a better place than it was for himself. Mr. Che had an iron spirit, not cold and rigid, simply unbreakable. I remember the first time I saw Mr. Che cry, the day I found out he was in fact human. He saw more tragedy and evil in his life than any man ever should, but he did not relent. The darkness outside only made his spirit burn brighter, and he made it his mission to ensure that the fire he had would never be put out. He was the living embodiment of "do not curse the darkness, light a candle." In each of his students, myself incredibly lucky to be included, Mr. Che lit a spark, a desire to understand the world and all its people, to never live in fear, and to make changes for the better. I always wanted to make Mr. Che proud, to show him that his work was not in vain. While I know that he was always very proud of me, unfortunately I never got a chance to show him the fruits of his labor, to come back in 20 years and tell him how he had helped me accomplish things in life. And so more than anything I want to pass on what I have learned, pass the spark Mrche gave me to future generations, to keep his fire burning forever and make sure that what he spent his life doing would not be in vain. Mr Che was many things: resolute, kind and a little crazy, but most of all he was our beloved teacher. His impact on the lives of all his students will never be forgotten. Thank you for everything Mr. Che, you will be missed."
– Erik Medina '21 
"Youming Che was a respected and loved teacher, mentor, advisor, and friend to many students and faculty members in the Ransom Everglades community.  His smile was contagious and his devotion to teaching students the Chinese language never went unnoticed. May Youming Che rest in peace, he will be greatly missed by everyone who was blessed to know him. "
– Addy Weintraub '20 
"Mr. Che was one of my favorite teachers during my time at Ransom. He constantly inspired me to try my hardest and to never give up the pursuit of knowledge. During our spring break trip to China during my freshman year, he went above and beyond to ensure every student stayed safe, had fun, and learned above all. Even outside of academic settings, he was a genuinely wonderful man. For these reasons I will never forget him. The RE community has suffered a terrible loss. "
– Noah Weitz '16
"He was not only a master teacher, but a truly good, sweet, and wonderful person. I was personally blessed to have him as a teacher, a mentor, and a friend during some of my most formative years. For those that were not aware, he led an incredible life before Ransom when he escaped China as a radical who spoke up when his students were killed in Tianamen Square. Such a great loss. RIP Youming Che. "
– Maximilien Weiss '12 
"I was sad to hear of Mr. Che's passing earlier today. Though words are insufficient, I want to express my condolences. I am truly sorry for the loss of his family and those that knew him.In the brief time that I had him as an advisor, Mr.Che was a great influence. He helped guide me when making decisions about where to apply and what I wanted to do in the future. His stories about his youth and discussions on current events were inspiring and full of life-lessons. Beyond words, he attended protests and stood strong in his beliefs for rights and liberty. Mr. Che was a great mentor and person, and chose to make a difference. His passing is extremely sad and leaves those that knew him and the Ransom community in loss. However, his impact is longstanding and his legacy lives in the difference he has made. "
– Laura Zaidenberg '17 
"I have many fond memories of being a student in his classes. His dedication and love towards teaching has left a strong impression on me. May his memory live on through the many students he has taught over the years and through the Chinese Language program that will continue to impact others in the years to come. My deepest condolences to his family. "
– Mark Chua '12
"A legendary teacher that has left an indelible mark "
– Dylan Roston '18 
"Last year, I would get to the Ransom library every day around 6:30 am to work on homework. I would get there so early that I had to walk behind the front desk to turn on the lights. Every day, without fail, Mr. Che would walk in at around 6:45. He always took a moment to say good morning and chat, even if it wasn't about his class. He also always joked that I was the only person in the world who got to school earlier than him, and that I was such a hardworking student for getting there so early. One day I came late to school, and the next day when Mr. Che walked in as usual he stopped and yelled, "Fahren, where were you yesterday? I missed you!" Even though he was yelling in such a funny tone you could tell he really meant it. Other teachers walk past and you both say hello to be polite, but with Mr. Che it was purely because he actually cared about you. I looked forward to seeing him and talking to him everyday, and he made getting up early and going to school in general so worth it. "
– Fahren Hatami '21
"Mr. Che was a truly inspiring teacher who cared deeply about the lives and studies of his students. His classroom was a place where I expanded my knowledge of the Chinese language and culture, but it was also a space filled with so much laughter and joy, a space that I sometimes took for granted. Mr. Che shared stories about his own life with us and often ended classes with words of wisdom. He emphasized the importance of the learning process and reminded us to "make our Chinese studies vocal," as he believed we could not learn in silence. His love of teaching was reflected in his students' love of learning. I was always excited to go to Chinese class, where we participated in creative and engaging exercises and meaningful activities. It was my impression that Mr. Che was excited for our futures and was pleased to see the day to day improvements in our studies. While I was only his student for one semester in Chinese 3 Honors, I learned so much about Chinese, but also about life, from his class. Mr. Che made a lasting impact on the Ransom community and I will always remember him. 谢谢车老师,我们想你。" 
– Lucia Rose Dahn '23 
"Mr. Che was a man that would always encourage me every day to try my hardest. Having him first period was a blessing in disguise. He brightened my day, and class with him was always a fun experience. He taught me not just Chinese, but subtle things about life that only a man with his wisdom could tell. I loved just hearing his stories. He truly was a Renaissance man, and he had led a life that you could make a movie out of, for all the right reasons. I never got to visit him a last time before his passing, but I always remember him when I do my Chinese classes in college." 
– Anthony Goyanes  '20 
"In January of 2020 (just over a year ago now — hard to imagine), Mr. Che took time out of our AP Chinese class to talk about the developing coronavirus situation. Back then, it was very much still a China-only affair. Reports had only just started coming out of Wuhan. Very few could have imagined that the coronavirus would soon plague the entire world. I know all too many people (including myself) took a somewhat joking attitude towards the whole thing. Mr. Che being Mr. Che, he knew of the severity of the situation long before the rest of us (I remember him saying, with a sly smile, that he had infiltrated a Chinese doctors WeChat group). Mr. Che explained in very dire terms about how much suffering the people of Wuhan were going through. He told us about the mask shortages, the lack of information, the lockdowns, and the over-capacity hospitals. He asked us to help him organize a drive for the Red Cross of China. Most of all, I remember him crying. The only other time I had ever seen Mr. Che cry was when he shared his Cultural Revolution experiences with my 7th Grade class.
That story stands out to me because Mr. Che is so often in a joking, jovial, and energetic mood. I had rarely seen him so emotional. It reminded me of why Mr. Che was so dedicated to teaching Chinese. He saw his students as a crucial bridge of understanding between the United States and China. Having fled from China in the wake of Tiananmen, he still held hope for the cause of freedom. Mr. Che felt for the suffering of Chinese people back home, even though he had burdened plenty of suffering for his lifetime. He loved blogging to Chinese people, and he would occasionally come into class brandishing a screenshot of his blog with thousands of views from Chinese VPN-users. His empathy was why he protested at Tiananmen. It's why he chose to be a Chinese teacher. It's why he cried when he told us about Wuhan. Now, I hope all of his students feel obligated to take up some part of his empathy; to study Chinese; and to become the cultural bridges he wanted us to be. "
– Lucas Miner '20 
"Although I started Chinese in the middle school, Mr. Che was my first exposure to more intense and fast-paced Chinese learning. I still remember being absolutely blown away by the way he taught, since it was fundamentally different from every other class I had experienced up until then. Mr. Che didn't hesitate to go on long tangents and stories about his life or about the characters we were learning, and looking back on it, that was the most impactful and useful part of his class. To this day, there are parts of the Chinese language that I only remember because of Mr. Che's stories and his energetic way of teaching.
To give an example, I still remember (just like I'm sure everyone who was in my class does) the day we learned the character for electricity, 电 diàn. Mr. Che could have just told us what it meant and then moved on, but that wasn't his style. Instead, he first wrote the character for field, 田 tián, and then screamed KABOOOOM as he made a final stroke down the middle of the field to finally write 电. He said that lightning hitting a field means electricity, and because of that I will remember 电 for the rest of my life.
His stories about his own life were equally as impressive. When I first heard him talk about his life and living through the cultural revolution, I recall being near disbelief at his experiences. We had learned about these historical events in books and movies, but to hear from someone so close to us who actually lived through that period was something else entirely. These stories spoke to his resilience, and even more so showed his immense wish to better the lives of his students and the world by showing us the missteps of the past and entrusting us to improve the future. He didn't teach Chinese so his students could fulfill a course requirement at Ransom Everglades, he taught Chinese so we could use it to better the world.
Since leaving Ransom Everglades, I have taken 7 semesters of Chinese classes at Princeton University and will be getting a minor in Chinese language and culture. The foundation Mr. Che provided for me, like all of his students, is something I am deeply grateful for and will never forget. He has influenced my life in more ways than I can count. I miss him greatly, but I'm glad to say that his legacy lives on in the lives of all the students and friends he helped at Ransom Everglades and beyond. "
– Jorge Zreik '18  
"Mr. Che was a man of great stories. My favorite memories in his class each occur with him opening class with a new piece of writing he'd composed the previous night. In November of 2019, this writing was about a new virus that was spreading in Wuhan. I believe it was not even named yet, but Mr. Che was already presenting us with its Chinese name, 新冠病毒, which would become the staple of class discussions. From then on, we began each class with a new writing update on the virus situation provided by Mr. Che's nightly research and jumping of the Great Firewall of China. He reported to us in real-time what was happening in Wuhan, showing us security cam footage to reveal the virus' true severity. Living by his two rules, to never lie and to never live in fear, he always made sure to show his students the truth. The fact that his Chinese classes were informed about the coming pandemic long before the media outlets began heavily covering it demonstrates his devotion to making his students informed global citizens. Whether showing us a new rap song he was enjoying on SoundCloud or showing us the rising view count on his blog, he was always excited to share with us, his students. As a result of Mr. Che speaking about the coronavirus and telling us of his endeavors to share what he'd discovered with the Chinese public, I spent many hours on Chinese platforms like Cina and Weibo searching for this mysterious blog. Although to no avail, I realize now that this was his purpose after all. He would probably be laughing like a banshee (one of his favorite expressions) as that search forced me to spend time reading and practicing my Chinese. Mr. Che was always teaching, whether about the Chinese language, its culture, or life and whether we knew it or not. "
– Maya Rosen '21  
"January 14, 11:14 AM. My mind slams shut, blocking the news that my Chinese teacher has passed away due to a heart attack.  The lights are too bright and the words are droning on, and I want to put my hands over my ears. At first, I cannot accept what I hear. I cling to the fact that he seemed fine yesterday, and I tell myself that I will see him again tomorrow for class. Maybe if I say it over and over to myself, my wish will come true and take away this noise.  
My eyes dart around the room, seeking answers, but my advisors and the students are frozen. I realize the news is true.  My school has lost an honorary member, the creator of our Chinese program at Ransom, and a master teacher, but so much more than those titles. No one speaks, and the silence is deafening.  Thinking of Mr. Che hurts, but it is also a way to reclaim my relationship with him–one I don't want to let go.  I remember how on the days I had his class, I would wake up and look forward to seeing Mr. Che because he would always manage to make me smile, even if I wasn't having the best day. 
I think how sudden death can be. Mr. Che was a healthy man and every day he would wake up before school and go jogging. I struggle to accept that he passed away due to a heart attack on his morning jog. I plead with the gods to change the facts: if only his alarm went off a little late and he was unable to jog that day, he would still be here with us, making us smile with his usual jokes and stories of his pets or of his life in Chicago. But that isn't the case this time. Mr. Che is gone, but his memory in my mind is huge. 
Out of anyone, Mr. Che least deserved what happened to him. The rest of the day passes in a blur.  At first, Mr. Che's students talk about how unfortunate it is that some people never had the chance to truly know him, and remember the good times we had with him.  I hear voices, reflecting on the positive impact his life had on his family, his students, and his fellow teachers, and even as a youth in China where he was a leading revolutionary. But as we walk to the rock at school to say our goodbyes, and the reality sinks in, we fall silent. 
To borrow from the author Hesse, we did not speak "about what had happened that day… [nor] about the wound" but, "for a long time, [we] stood, reflecting, seeing images, listening to 
the tale of his life" (Hesse 110-112).  I personally have difficulty speaking about what happened, but I can still see him, standing at the front of his class, his eyes smiling.  This loss has brought us devastation and pain. But Mr. Che's life has given us a gift. I will remember him as a friend. I will remember him as a motivator. I will remember his light. It was my privilege and my honor to have known you, Mr. Che. I will remember.  
车老师安息,Mr. Che.一路好走。" 
– Will Charouhis '24